Colts Neck Pediatrics is a friendly, pleasant and caring place to take your children. Drs. Jocelyn Bautista her staff are dedicated to making sure that all children feel special and comfortable when they visit our office. Our priority is your children and their well being.
We provide excellent medical care and guidance to infants, children, and adolescents. New parents can trust that besides the best medical care, we are there to guide them through their many questions and to educate them on child rearing. We are open six days a week and a doctor is always on call. We are all parents and we empathize when your children are not feeling well. Our goal is that together we can raise healthy, happy and loving children throughout their growing years.
Meet Our Providers
Jocelyn Bautista, M.D., F.A.A.P.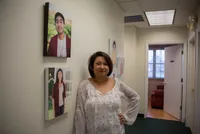 Dr. Joceyln Bautista is board certified in Pediatrics and is a Fellow of the American Academy of Pediatrics. She received her medical degree from the University of Santo Tomas in the Philippines and served her residency at Jersey Shore University Medical Center.
Dr. Bautista began practicing in 1996 and opened her own practice in 1999, Colts Neck Pediatrics.
Dr. Bautista and her husband, Eduardo Bautista, reside in Toms River Township with their two children, Michael and Jessica. Michael is currently studying computer science at Rutgers University and Jessica is tracking Occupational Therapy at Seton Hall University. In her spare time, Dr. Bautista enjoys knitting, playing tennis, and serves as the President of the Filipino-American Medical Society (FAMS) of Toms River.
---
Our Friendly Staff